Olympus Marathon takes place on Mount Olympus, the mythical "Mountain of the Gods", at the last weekend of June. The route revives the pilgrimage of ancient Greeks to Mount Olympus, where they ascended every year from the ancient city of Dion to sacrifice to Zeus, the King of Gods, and lay their offerings.
Athletes start from the archaeological site of Dion, at an altitude of only 3 meters and reach to an altitude of 2780 meters, pass before the "Throne of Zeus", one of the highest and most craggy peaks of the mountain and cross 21 km through an area of outstanding natural beauty. The ascent covers a distance of 21 km at an altitude of more than 2900 meters from the starting point to the highest point of the route and it is ongoing and strenuous.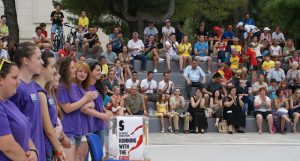 The race has a total length of 44 km and ends at the town of Litochoro, one of the most prominent, traditional resorts in Northern Greece, located at an altitude of 300 meters at a distance of 5 km from the coast of the Thermaic Gulf. The route runs through the whole east side of the mountain providing the athletes with a breathtaking view to the highest points of the route.
Οlympus Marathon gathers athletes from all over the world, who arrive at the mythical mountain to participate to a race of international prestige and enjoy the experience on a mountain that has been declared not only a National Park but also a UNESCO World Heritage Site of Natural Beauty.